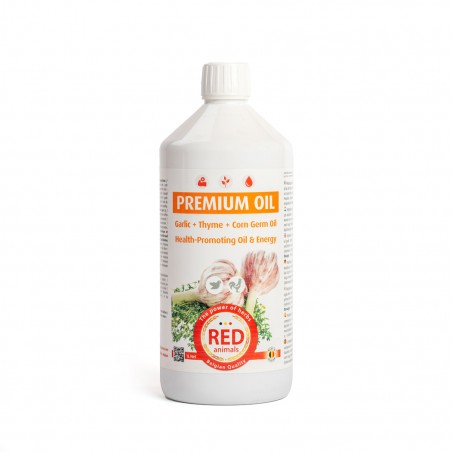  
Premium Oil 1000ml
Natural products & know-how
Avoid antibiotics & enhance the natural immunity
PREMIUM OIL is a blend of corn germ oil and essential oils of the highest quality. When using PREMIUM OIL you will not need to use any other oils.
Corn germ oil is high in vitamin E, has a pleasant flavour and is easy to digest. Essential garlic oil provides a cleansing effect. Essential thyme oil has a very beneficial effect on the respiratory tract.
Use PREMIUM OIL:
• To prepare birds for breeding, 8 days before putting birds together; also in the growth stages of young pigeons.
• After competitions PREMIUM OIL may be mixed with GALAXY for a period of 2 days. PREMIUM OIL provides sufficient fat reserves and GALAXY protects the pigeons against external attacks.
• To prepare for competition; give PREMIUM OIL for 2-3 days before basketting. This will increase your pigeons' energy reserves, especially before mid-distance and long-distance flights.
Use GALAXY on Wednesday and Thursday, for example, to prevent problems during transport. Add vitamin supplements to the drinking water.
Dose: 1 tablespoon (15ml) per kg of feed.
8 other products in the same category: