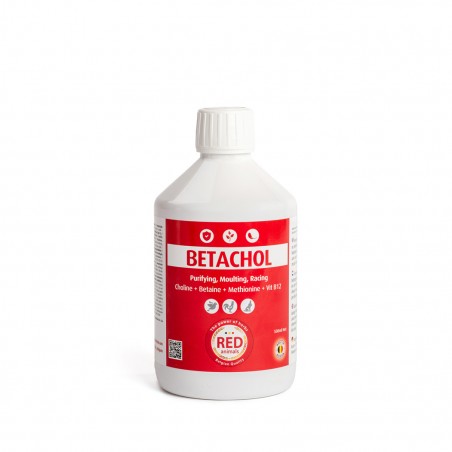  
Betachol 500ml
BETACHOL contains, among other things, methionine, choline, betaine, vitamin B12, vitamin C and specific herbs that promote cleansing.
• Methionine, choline and betaine: purifying effect.
• Vitamin B12: excellent for healthy and shiny feathers.
BETACHOL is perfect for effective internal cleansing. Highly effective during moulting period and after high-stress situations. The red colour of this formula is due to an extremely high concentration of vitamin B12 (50mg per litre, one of the highest concentrations available). Give twice a week or administer a course of treatment of 5-7 days.
Dose: 10 ml / litre of water or per kilo of grain
Nutritional supplement for pigeons.
8 other products in the same category: